Whisky Fundamentals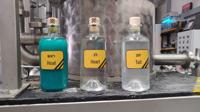 Published 22/05/2020
What is continuous distillation? Continuous distillation refers to the process by which a mixture of liquid, typically alcohol and water, is fractionally separated or split via the application of heat. Unlike conventional batch distillation which requires the manual removal of unwanted liquids before further distillation can occur, continuous distillation allows for a looping system meaning that distillation can continue with little to no interruption. This approach has a number of benefits over batch distillation.
Published 22/05/2020
Aeneas MacDonald was the pseudonym of George Malcolm Thomson (1899 - 1996), then an Edinburgh-based writer and journalist. He adopted the non de plume in deference to his mother, who was a strict teetotaller! (The original Aeneas MacDonald was one of Bonnie Prince Charlie's earliest supporters, the so-called 'Men of Moidart', who acted as banker to the Jacobite troops during the 1745 Jacobite Rising. Thomson himself was an ardent Scottish nationalist though ironically he subsequently spent most of his life in London.