What is an Oloroso Sherry Cask?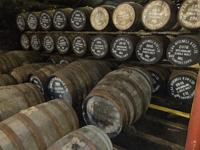 Oloroso Sherry Cask are whisky casks which have been previously held Oloroso Sherry. Oloroso Sherry is a type of fortified wine produced near the city of Jerez de la Frontera in Andalusia, Spain. The Sherry Triangle produces wines which have been 'fortified' with a higher alcohol strength in order to prevent yeast growth and bottled under the official name of Jerez-Xérès-Sherry. There is something of a manufactured misconception, that the casks used at these bodegas are the same used for whisky maturation however this is not the case. Oloroso sherry casks are more commonly known as sherry butts within the whisky industry.
The Truth about Sherry Casks
Sherry is known to be aged in a solera system. This means that a collection of barrels is arranged according to the age of the sherry inside. At the time of bottling, the liquid is extracted from the oldest barrels. The law states that the barrels can only be emptied one third at a time. When the liquid from the oldest barrels has been removed, it is refilled with sherry from the next oldest barrel and this continues along the solera line.
These solera barrels are very valuable and are only removed from the system if they are damaged. As there are so few solera casks in circulation, these are incredibly valuable and almost never sold. Instead sherry Bodegas use their casks until virtual exhaustion. Even were this not the case, there are not numerous enough bodegas in existence to to supply sufficient cask volumes for whisky maturation. This is not a new development, and despite the markeeting pretensions of whisky manufacturers virtually no bodega cask has ever been used for whisky maturation in a Scottish warehouses.
In reality the casks used by the Scotch whisky industry until around 1981 were transport casks. These casks held sherry for their journey from bodega to Britain, and during their warehousing until they were bottled. Rather than shipping back air, or flatpacking the barrels for transport these casks were sold on to the whisky industry. In 1981 Spain changed its export regulations requiring sherry be shipped in bottles rather than casks and the supply of transport casks disappeared. The majority of whisky is now matured in bourbon casks, or in specially seasoned casks designed to resemble the characteristics of Olorroso, or PX shipping casks. You can find out more about this on our article what are sherry casks?
What is Oloroso Sherry?
Sherry is generally fortified white wines. Oloroso is an oxidatively ripened sherry made from palomino grapes. This type of sherry is typically full-bodied, strong and dry, but is sometimes sweetened by adding other types of sherry. The properties of Oloroso sherry are transferred to the barrel and later on to the whisky.
Where do Oloroso sherry barrels come from?
Oloroso sherry barrels always come from Spain. More precisely from the area around the town of Jerez de la Frontera in the south of the Iberian Peninsula. The different sherry wines may only be produced in the so-called "sherry triangle".
Why is whisky aged in Oloroso barrels?
Because of their harmonious character, Oloroso casks are very popular for maturing whisky. The taste of the Oloroso sherry fits in elegantly with the aromas of the whisky in most of the bottlings, but is not too dominant. In this way, Oloroso sherry barrels can add more aromas to a bottling. Oak barrels of other types of sherry, such as Pedro Ximénez (PX), are also used to mature whisky. However, Oloroso barrels are less sweet and luscious compared to PX casks.
There are several variants for storage:
A sherry cask whisky is stored in sherry barrels for its entire duration
A single malt with a sherry finish often matures initially in ex-bourbon barrels and then completely in a sherry cask (e.g. Oloroso cask) for a few months / years
During parallel maturation , part of the whisky is stored in ex-bourbon barrels, another in, for example, Oloroso sherry casks. Then there is a marriage of both types.
What flavours does the Oloroso sherry bring to the whisky?
Oloroso sherries are dry, strong and full-bodied in their character. Whiskies that were matured in former Oloroso sherry casks are mostly characterized by woody and ripe, fruity aromas. The respective aroma profile also depends on the duration of maturation, the intensity (first fill, second fill) and the quality of the barrels used.
Typical for whisky matured in Oloroso casks is a dry, but also soft, full mouthfeel. Concise notes that can be discovered in whisky matured in Oloroso casks are dried fruits such as figs, plums and raisins. The fruit notes are often complemented by distinctively spicy oak notes.
How big are Oloroso sherry casks?
With a volume of 500 litres, Oloroso sherry barrels are significantly larger than conventional American Standard Barrels (ASB) ex-bourbon barrels, which have a capacity of only 200 litres, and of the rebuilt hogshead, which hold between 225 to 250 litres. A whisky tends to mature more slowly in larger barrels, as relatively less new make comes into contact with the barrel surface. A complete storage of the whisky in the barrels for many years becomes an option.
However, not all sherry cask whiskies are actually stored in butts. On request, the bodegas also produce sherry hogshead in the desired specification, which can then be placed in Scottish warehouses next to bourbon casks of the same size. For the production of the sherry barrels, European as well as American oak wood can be used. The term 'matured in spanish oak casks', which can be found on some whisky bottles, refers to the manufacture of the casks in Spain, but not to the origin of the wood or the type of oak.