TLDR
What is Paxarette?
Paxarette is a grape must that is concentrated by reducing it by boiling it down to such an extent that only about a fifth of the original volume is retained. This concentrate is then fermented, giving it an alcohol content of approx. 9-11%. The very sweet Sancocho and Arrope grape varieties were commonly used for Paxarette production
The Long Read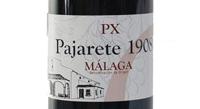 The worldwide consumption of sherry has been declining since the late 1970s, but the demand for Scottish single malt whisky is constantly increasing and with it the demand for sherry casks - an unhealthy relationship. To make matters worse, since 1981 sherry can legally only be exported in bottles. The earlier synergy of the simultaneous export of sherry and casks has therefore been eliminated. This is the most common reason given for the introduction of paxarette but as with all aspects of whisky the truth is a little more complex.
Britains sherry consumption has been falling ever since the end of the 19th century, meaning there was a shortage of transport casks. While distilleries and blenders continued to use a wide variety of casks including wine, bourbon and even rum casks, Sherry was by far the most in demand due to its flavour enhancing properties.
The introduction of Paxarette
Glasgow based blender and agent for leading Sherry producer González Byass, William Phaup Lowrie is the man most commonly credited with the introduction of Paxarette. Contrary to popular understanding, Paxarette was not used to enhance the whisky directly with additional sherry notes, but instead was a way of cheaply producing seasoned casks, or breathing new life and flavour into tired casks. To do this, Paxarette was injected into the wooden walls of the barrels using pressure.
The practise became incredibly common throughout the Scotch whisky industry to such a degree that virtually all distilleries bottling plants would keep it on hand. Whenever the contents of a Sherry butt, or even hogshead was emptied and the colour found lacking Paxarette would be injected with compressed air.
Banning Paxarette
The Scotch Whiskey Act 1988 (which came into force in 1990) stipulated by law that whisky must not contain any additives other than spirit caramel. The use of paxarette was thus prohibited. Some connoisseurs mourn the loss of this whisky, which has matured in casks treated with Paxarette, claiming that the whisky produced afterwards no longer achieving the quality since. Opponents argue the opposite that the process was expensive, and largely ineffective.