Michel Couvreur - Last of the Mohicans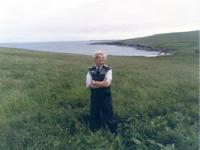 In the vicinity of Beaune, the Belgian Michel Couvreur begun making wine in Burgundy in the 1950's. While trading Burgundy in Scotland, Michel met Ian Tennant of The Glenlivet, who was as enthusiastic about his wine as he was about his whisky. This led to a 25 year study of the magic of this ancient way of making uisce beatha. So traditional was his approach that he earned himself the name 'the last of the Mohicans'.
In 1964, Couvreur travelled over 930 miles to make a home in Scotland where he turned his attention turned to whisky creation with patience, knowledge and understanding of each unique stage in the process. While studying whisky maturation in used sherry barrels, he concluded that the most beautiful whisky comes from sherry barrels that were used for at least 20 years of sherry production. The same applied to casks used for Vin Jaune, Montilla-Moriles or Port.
He favoured ancient grains, varietals of bere' barley, a six-row barley currently cultivated mainly on 5-15 hectares of land in Orkney in the far north of Scotland. Bere Barley being high in protein and low in starch (meaning less sugar) is very unproductive and therefore not commonly used for whisky production anymore. From this barley a beer is brewed, and then distilled. In addition to these custom orders, casks are also sources from a number of traditionally operated whisky distilleries. These may possibly include Edradour and Glenlivet among others, in contrast to other independent bottlers, Couvreur has never stated the origin of his whiskies. Using water sourced from Loch Katrine in Scotlands Trossachs, Couvreur diluted his whisky to drinking temperature and matured the whisky partly in Scotland and partly in France.
In the 1970s he moved back to the continent, in Bouze lès Beaunein France he became the owner of an old wine cellar carved into the rock. Halfway between Scotland and Spain, he once again began to create whisky. His years of activity in the wine business enabled him to fill his cellar with disused sherry barrels, and he obtained the distillate from Scotland,
With a production of only 50,000 bottles per year, it's fair to say Couvreur whiskies are not mass-produced, meaning it's possible to adhere to a traditional style of whisky production, the results of which only a handful of Scottish distilleries can match.
The last of the Mohicans
Michel died on August 17th, 2013, however his son-in-law Cyril, along with other family and employees remain completely true to his ideals. Sherries are tasted and the barrels with the most beautiful sherries are bought still full. The sherry is sold as a leftover product so that on the day the sherry casks are emptied, the whisky can be immediately poured into the casks to avoid the more bitter aromas imparted by dry barrels. According to Michel, this creates the perfect osmosis between the almond tones of the grain and the nutty aromas that the sherry barrel reveals. Michael claimed that 90% of a whiskies quality is derived by casks maturation while only 10% comes from the distillation process, as such he viewed the use of bourbon casks, a virtual neccessity since the EEC banned the shipping of sherry in bond as a tragedy that has unsatisfactorily changed the essence of whisky.
No use of caramel, cold filtration, clearance and sugar, which means that the whisky is not completely clear as usual and can even go temporarily cloudy in cold temperatures. Like wine, many of his whiskies evolve in the glass. It is recommended to pour this at least 15 minutes before the tasting.
Bottle notes
After their time in the oak barrels, they linger in large glass containers before they are then filled into the square bottles as required and provided with a label stuck over one corner. These bottles are closed with a wine cork, they are also sealed with wax. Before opening a Couvreur whisky, it is advisable to immerse the bottle upside down in very hot water to warm this wax and then loosen it with a sharp knife. Without this procedure, the wax can only be detached from the bottle in very small pieces, which then spread throughout the immediate vicinity.