Dr. Jim Swan - The whisky magician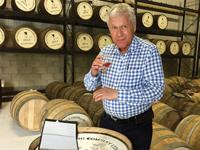 A personality little known to the general public, but a highly recognized personality in the whisky industry, was Dr. James Sneddon (Jim) Swan. The trained chemist was a long-time expert and advisor to the whisky industry and helped shape many of the whiskies that we can enjoy today. Swan died on February 17th, 2017 at the age of 75 and left us a legacy of excellent whiskies from all over the world.
The world-renowned whisky expert was most recently involved in the construction of the Lindores Abbey Distillery in Fife at the time of his death. Swan was perhaps best known for his work with Taiwan's Kavalan distillery and their award-winning single malt whiskies, Swan has worked with countless distilleries around the world. These included the Welsh Whisky Company (Penderyn), the Israeli Milk & Honey Distillery and the Dublin Distillery Company. Kilchoman or the Speyside Distillery from Scotland and Spirit of Yorkshire with their Filey Bay whiskies from England were just as much a part of Swan's pupils as Amrut in India and many others. Smaller projects such as the English Cotswolds distillery were also part of his legacy.
It was his particular merit to teach young distilleries how to produce whisky in such a way that it reaches maturity and complexity much earlier than usual. His early work on the chemistry of wood helped decipher how different parts of the oak contribute to the flavor of the whiskies. In particular, he was a pioneer and advocate of the STR method (short for shaved, toasted and recharred) for processing red wine barrels
Dr. Jim Swan could look back on a well-founded scientific career: He studied chemistry and biology at Heriot-Watt University in Edinburgh and was involved in numerous scientific studies. For 10 years he was Operations Director at what is now the Scotch Whisky Research Institute. Memberships with the Royal Society of Chemistry and the Institute of Brewing and Distilling underscore his expert authority and reputation in the professional world. In the more than 35 years of his career, Dr. Jim Swan as a chemist, whisky blender, barrel specialist, researcher, developer, technical consultant and author.