Alfred Barnard: An Introduction
The following is a message from one of only two surviving decedents of the Enigma that is Alfred Barnard and considerably increases the knowledge we have of the man.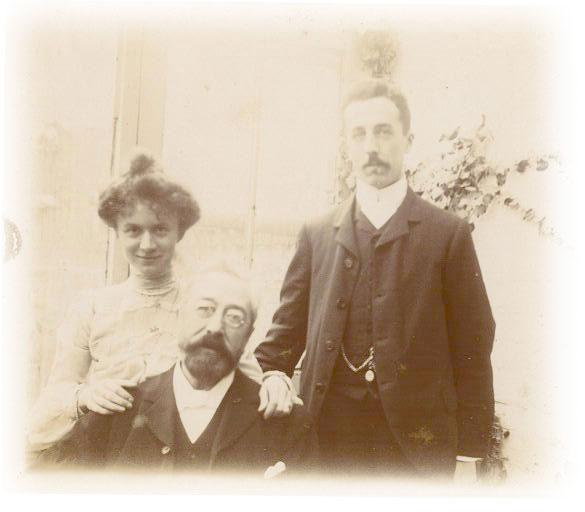 What a fantastic photo of Alfred and I like the thoughts you express about him. It has cleared up an old mystery of the unidentified gentleman in the photos, which I have scanned into this e-mail. These are with my Grandfather Harold Barnard and Grandmother Cecile Perrier taken we think at the Perrier family home in South Norwood in 1904/1905 around the time of their marriage.
What can I tell you about Alfred? He is nearly as much an enigma to my family as he is to you. I have a copy of a flyleaf from an old family bible, which shows that he was one of 8 children born to Abraham and Mary Barnard of Thaxted. As you say in your review Abraham was a grocer and draper. His father and grandfather were millers and farmers in the Thaxted area although for a time Abraham's father was living in Halstead where Abraham was born. (I hope I am not getting into the bridge-measuring syndrome of my GGF).
Alfred was born 8 May 1837 ("Monday 8 in the Evening…named by Revd. I Clark Baptist Minister of Thaxted 9 Feby 1840" to quote family bible). In 1859 Alfred then age 22 married Fanny Ruffle, also 22, from Great Sampford (near Thaxted); her father was also a grocer and draper. At the time Alfred is described as a draper and was living in a part of Kensington. They had 2 daughters (Theodora and Edith) and one son (Harold) between 1861 and 1869. Harold was the youngest. In the birth certificates Alfred is described as a toilet soap exporter, then merchant, and then a gentleman. Each birth certificate has a different address ranging from Islington in 1861 to the Cavendish Square area in 1869. In the 1881 census they are just outside Dulwich College where my grandfather was a pupil for 3 years. In 1901 Fanny and Harold are living in a house in South Norwood barely a block away from my Grandmother.
When he was born Alfred's family seem to have been Baptists but he and Fanny were married in the parish church at Great Sampford and Harold was also married C of E. I have no idea where Alfred was buried, presumably in a cemetery in or near Croydon.
One of the ironies in my mind to Alfred's interest in Whisky (and beer) is that it would be one of the last things to expect him to have an interest in because I thought good Baptists were against the taking of strong liquor. But then maybe it was a rebellious reaction; Alfred did not get anything from his father's will whereas four of his brothers scored so maybe there's the answer.
When Harold was married the family address is a house in Wallington. Harold, my Grandfather died from what the Wine & Spirit Gazette called "an acute attack of pneumonia of scarcely 48 hours duration" in June 1909 at the age of 40. He was at the time secretary of Harper's and Alfred took over this role then for a short period. My mother was not quite 3 at the time and for some reason, to which we have never been able to gain an insight, my Grandmother seems to have become distanced from her in-laws although in due course my mother was on very good terms with the only child and daughter of Edith Barnard. Hence it was only about 4 years ago when I started on family history research that I discovered the Barnard books.
As I said yesterday I think my brother and I, with our children, are the sole direct descendants of Alfred. There is one other granddaughter whom I have yet to trace forward but my mother's notes on the family does not indicate any other great grandchildren than my brother and me.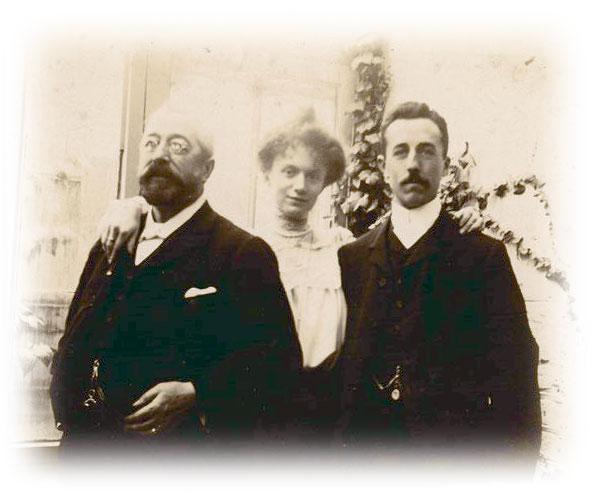 The Barnards have a large presence in Australasia as James Barnard, an elder brother of Alfred, migrated to Oz in about 1855 during the gold rush days in Victoria; he finally settled in Bendigo and has a street named after him. He was known at the end of the 1800s as the Bard of Bendigo! I recently read that there are/were over 400 direct descendants of his starting with his 9 children. (More bridge-measuring; it must be in the genes). One of James's descendants in NZ is threatening to write a book on the Barnards. I've been trying to figure out why so little is known of Alfred but I wonder if he intentionally sought to keep below the radar. He does not show up in the 1881 or 1901 censuses, he did not appear to leave a will and left very little biographical information. However he does seem to have been good at writing factual books; I have one other, which is an original copy, about the orchards and gardens of William Whiteley, owner of the department store in Queensway in Bayswater. This book also refers to two other books in addition to the brewery books: "Classic Canongate" and "A Tour in Argyleshire". Perhaps the latter came out of the whisky tour. That's a starter, which I hope offers some more insight on Alfred. Seeing his picture it seems such a shame that my mother apparently had no contact that we are aware of particularly as she would have been 12 when he died. He looks like the sort of person who would be fantastic to have as a grandfather. Michael Billinghurst. Great grandson of Alfred Barnard. June 2004.