What is a Mortons Refrigerator?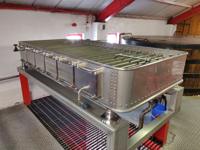 A Mortons Refrigerator is a device used to cool wort drawn from a mashtun using only cold water. Largely abandoned as a technology in favour of modern heat exchangers these used to be prevelant across the whisky industry.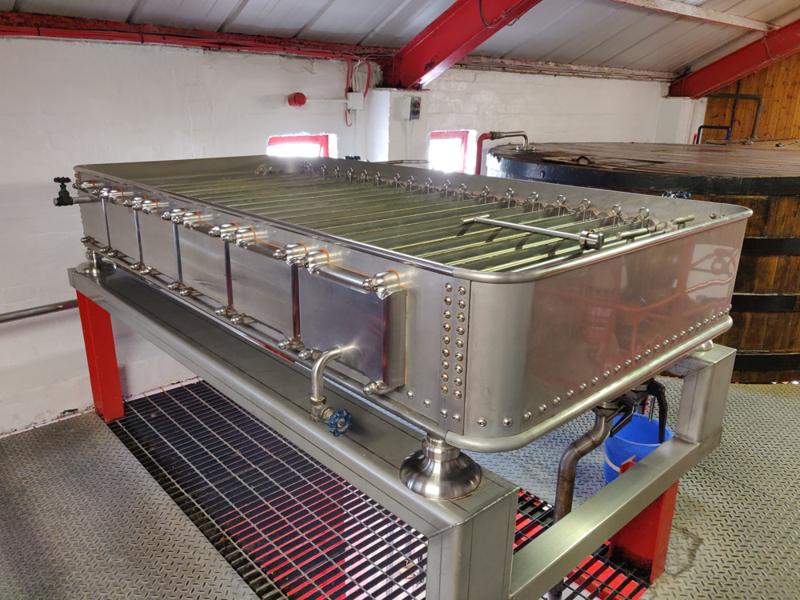 After boiling water is fed through the ground barley in the mash tun the resulting wort must be heated before fermentation can begin. At Edraduor distillery this cooled in the Morton refrigerator only with cold water. This is the last of its kind that still works in the whisky industry.
The biggest peculiarity should of course not go unmentioned: Edradour uses a Morton Refrigerator, in which the water is cooled by passing it through many metal fins, just look at the photos!
The Last Morton Refridgerator
Since the early 20th Century Edradour Distillery has used a Mortons Refrigerator for the cooling of the Wort. Unfortunately the original was finally beyond repair, and whilst it could easily be replaced with a modern plate heat exchanger, the distillery had an exact replica created using stainless steel. This is the last of its kind still working in the whisky industry though we know these were once quite common. It's impossible to say for certain how many Morton Refridgerators were used in the industry but in his [The Whisky Distilleries of the United Kingdom] Alfred Barnard noted morton refridgerators in 27 of the 162 he visited. These were:
Clydesdale
Burnside
Campbeltown
Lochruan
Lochead
Yoker
Kinloch
Provanmill
Glenside
Greenock
Glen Lossie
Cragganmore
Dean
Cambus
Glen Rothes
Bo'ness
Glenturret
Ardbeg
Glen Grant
Rosebank
Ord
Cameron Bridge
Bon Accord
St. Magdalene
Hazelburn
Dundashill
Royal Brackla