Distilleries, Lost Distilleries and Brands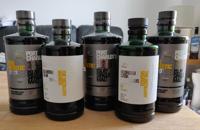 The line between a brand and a distillery, and the linkages between distilleries of the same name can be somewhat complex. This is thanks to the turbulent history of whisky, Irish and Scotch Whisky in particular, closures, bankrupt businesses, discontinued brands, recreation of brands, regeneration of distilleries and other forms of necromancy and marketing. Deciding where to draw this line is actually more complex than we might think.
Lost Distilleries and Distillery Resurrection
Sometimes a closed distillery such as Brora or Port Ellen is recreated on the site of the former distillery. For simplicity when this happens in recent history these distilleries are treated as being re-opened rather than rebuilt as this is undoubtedly how these will be marketed. In truth the new site may have few if any buildings in common with the earlier site to say nothing of the equipment. It's this peculiarity of marketing that allows a distillery built in 1957 to claim to be Scotlands oldest thanks to some bricks in common.
The new Annandale distillery is not the old one, nor is it trying to be. The new Port Ellen distillery will not be producing the 30 year old whisky most of us have come to know through samples and auction bottles and so Diageo will come to decide what spirit style to aim for. Should these be considered new distilleries, or are they old ones revived.
Stills Masquerading As Distilleries
In other occasions a distillery may actually be no more than another still, Mosstowie and Glencraig for example were the names given to malt whisky produced using Lomond stills at Miltonduff and Glenburgie respectively. Following in the footsteps of the Inverleven still at Dumbarton we now have Ailsa Bay produced in the Girvan grain distillery.
Brands That Were Old Distilleries
Port Charlotte was a distillery on Islay, the buildings survive, are owned by Bruichladdich Distillery Company (Rémy Cointreau) and the maturing stock for the Port Charlotte brand rests here. The arguement that this can be more than a brand is easily dismissed, however the Hazelburn brand is a triple distilled whisky produced at using slightly different equipment to the twice vs. 2.5 times distillation of Longrow and Springbank. Loch Lomond presents an even more complex problem.
Differentiation
This result is a complex tapestry of lost historic distilleries, revived historic distilleries, new distilleries with historic names which were previously brands (Kilbeggan) and brands named after historic distilleries. To say nothing of distilleries sharing names with brands, which are ownered seperately (Dallas Dhu).
For simplicity on Whiskipedia a brand is identified as a unique entity if it does not share its name with its parent distillery, is a blend or is in some other way noteworthy, such as the various iterations of Loch Lomond. A distillery is defined as a being produced on a unique set of stills to the flagship offering, and revived distilleries will be treated as continuations of the historic site in so far as they share a name, and the same site as the historic distillery.