Drum Maltings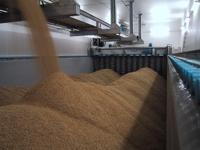 Image courtesy of Peter Schill
Drum maltings were once the shining star of maltster replacing floor maltings & Saladin boxes. Now these to are a footnote in the history of whisky. Learn more about the malt made in a rotating drum with Whiskipedia.
What is drum malting
A drum malting system is used for the steeping and malting of barley and other grains. The steeping system allows the grain to be washed, extracting any dust and other foreign impurities, while at the same time humidifying the grain to begin the malting process. The barley is mechanically turned in large industrial drums ensuring that the sprouting barley does not tangle.
This allows more control and, at the same time, individualization to be achieved in the process of barley germination with every single batch. Important factors such as temperature and airflow can be controlled much better than with traditional floor malting. This allows the malters to guarantee constant and individual customer quality. The technology is now largely obsolete and is only rarely used.
Who invented the drum malting process
Nicholas Galland, who pioneeted the precursor to the Saladin box developed the drum malting process and built his first plant in 1873. Drum malting would go onto become the most common commercial malting process of the late 1800's and early 1900s. Drum malting makes use of a rotating drum for germination. The rotation of the drum gently turns the green malt, preventing matting of the rootlets, provides temperature regulation, and facilitates air flow.
Introduction of drum malting
In 1967 the Burghead Maltings started operation by Scottish Malt Distillers with 24 drums. The industrial maltings were increased to 48 germination drums in 1971 making it one of the largest European drum maltings.
Distilleries with drum maltings
A number of distilleries including Port Ellen and Glen Ord introduced drum maltings. These often replaced Saladin boxes or floor maltings. Speyburn introduced a much earlier type in 1905, these were based on those built by Galland at Pankow, Berlin in 1883.
Drum maltings at Port Ellen
7 malting drums were installed at Port Ellen distillery in 1973 to service Diageo's three Islay distilleries: Port Ellen, Caol Ila, and Lagavulin. The maltings themselves have outlived Port Ellen distillery which closed its doors in 1983 as there was not enough interest in it as a single malt, and the blending market was experiencing an oversupply. The maltings still supplys much of Islay and Jura among other Diageo distilleries. Happily Port Ellen distillery is now being re-established.
Drum maltings at Glen Ord
In 1961 the floor maltings at Glen Ord were replaced by a Saladin box, in 1968 there was another drum malting added. The Saladin box was removed in 1983, today there are only drum maltings. The Glen Ord Maltings supply many Diageo distilleries with malt like Talisker distillery.
Speyburn maltings
An earlier type of drum maltings, the Galland-Henning Pneumatic drum maltings was installed at Speyburn in 1905 however these stopped producing malt in 1967. Although the old drum maltings at Speyburn are no longer in use, these are protected by Historic Scotland and can be seen by visitors.